Sara Sari Song
from Telugu movie
Bheeshma
is the just-released Telugu music having great lyrics & the nostalgic voice of Anurag Kulkarni providing
Nithiin
,
Rashmika
. Mahathi Swara Sagar is the director of tune and Shree Mani, the songwriter for dreamy lyrics that you may like to study below.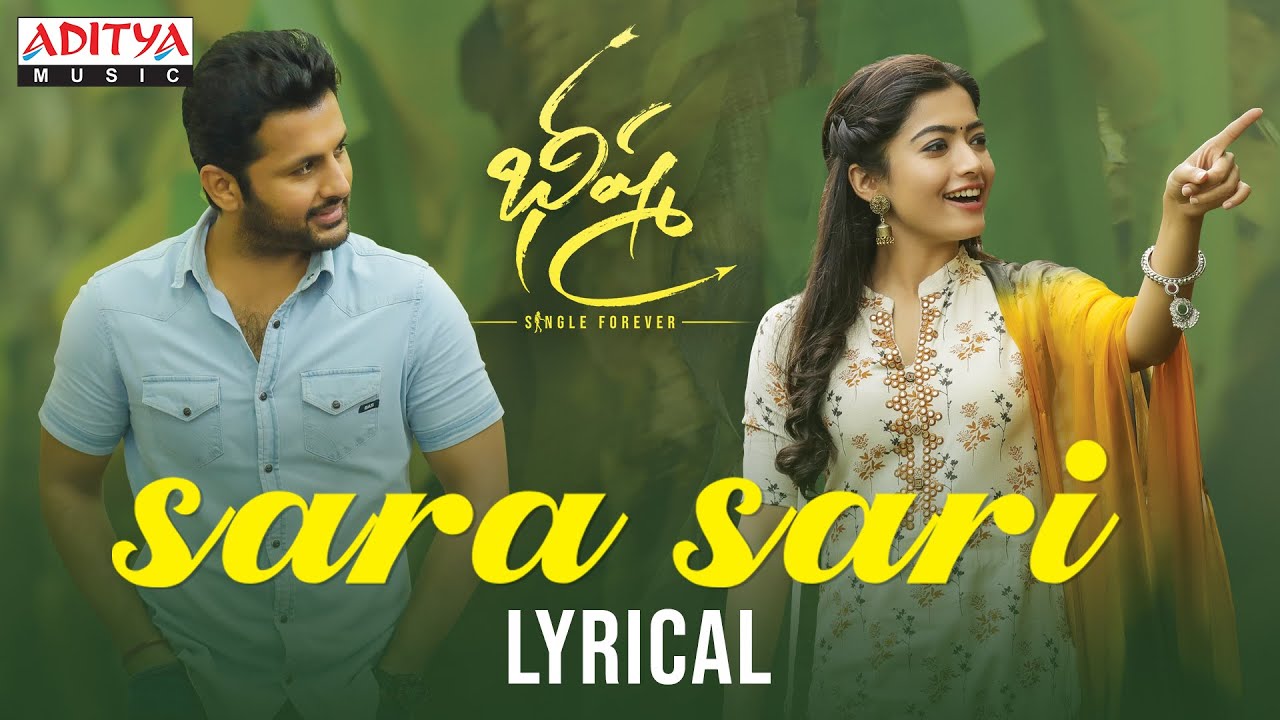 Sara Sari song details
| | |
| --- | --- |
| Singer | Anurag Kulkarni |
| Music | mahati swara sagar |
| Song Writer | Shree Mani |
Sara Sari lyrics
Na Kalale Nee Roopam Lo,
Yeduraiye Nijama Maya,
Yevevo Oohalu Nalo Modalaye,
Na Manasey Ningini Dhati Yegirenule,
Nijama Maya Ee Kshaname,
Adbuthamedho Edho Jarigenuley,
[Instrumental Music]
Yedo-Yedo Cheppalanipisthonde,
Nuvve-Nuvve Kavalanipisthondhe,
Inka Edho Adagalanipisthonde,
Neetho Roju Undalanipisthonde,
Ho Nalone Navvukuntunna,
Nathone Undanantunna,
Nake Ne Kotthaga Unnna, Nee Valle,
Nee Valley, Ho Nee Vente Needanauthane,
Nuvvunde Jadanauthaney,
Nuvvunte Chalanipinche, Mayedho Challave,
Sara Sari Gundello Dinchave,
Mari-Mari Maikamlo Munchave,
Ho! Aina Sare Ee Bhadha Bagundhe.
[Instrumental Break]
Anukonide Maniruvuri Parichayam,
Oho Jathapadamani Manakila Rasundhe,
Mathi Chedi Ila, Nee Venake Thiragadam,
Hmm! Alavatuga Nakela Marindhe,
Agaleni Thondaredho, Nannu Those Nee Vaipila,
Apaleni Vegamedho Nalopala,
Intha Kalam Naku Natho, Intha Godave Raledhila,
Ninnu Kalise Roju Varaku, Yerojila Lene Ila,
Sara Sari Gundello Dinchawe,
Maree-Maree Maikamlo Munchawe,
Aina Sarey Ee Bhadha Bagundhe.
[Instrumental Music Continues]
Sara Sari song Listen online[FREE]